It's a beautiful Sunday afternoon as you're taking a stroll down your neighborhood. The sun, usually arrogant in its radiance, is being agreeable and isn't burning your skin to a crisp.
Suddenly, something brushes past your knee. You pause and gaze upon the dorkiest but cutest little pug you've ever seen. "Sparky!" his owner calls for him. As the owner apologizes for Sparky's enthusiastic greeting, you picture happy ol' Sparky's face on a t shirt and, boom, a new project is born.
When it comes to creating a t shirt, the choice of blank is just as important as the design itself. While some may think any old t shirt will do, the reality is that the quality and style of the blank shirt can make or break the final product.
First and foremost, the quality of the blank t shirt will determine how well the design holds up over time. Cheaper, lower quality shirts are more likely to fade, shrink, or warp after washing, which can lead to a less-than-perfect end result. On the other hand, investing in a high-quality blank shirt means that the design will stay looking great for a longer period of time, even after multiple washes and wears.
This is especially important for businesses or organizations that want their shirts to serve as a form of advertising or branding.
Another reason why a blank t-shirt for printing matters so much is because they can set the tone for the overall style and feel of the design.
For example, a classic, simple white t shirt may work well for a minimalist design, while a more vibrant, colorful shirt may be better suited for a bold and expressive design. By carefully choosing the blank t shirt, designers can create a cohesive look and feel for their custom apparel that will resonate with their intended audience.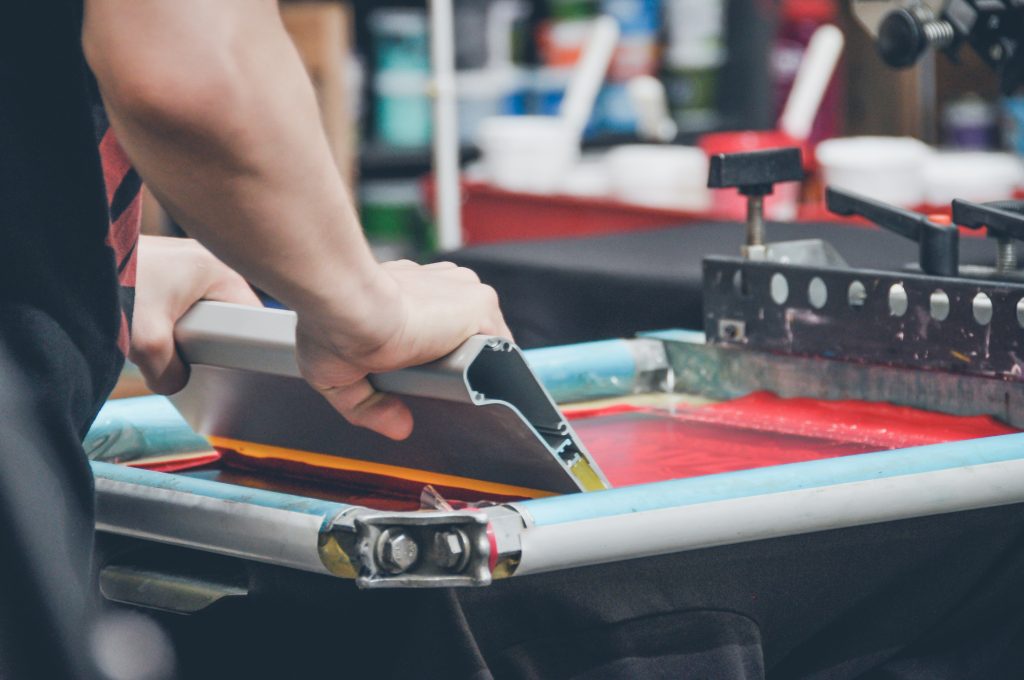 Oh Boy! Print shop screen printing press
Great t shirt ideas may come easily from time to time but the process of choosing the best t shirts for printing might prove a bit complicated. After all, you need to find the right types of shirts that will do your idea and design justice.
Whether you're looking for the best option, budget or fashion wise, look no further. Having dealt with various t shirts within the industry, we at Oh Boy! Print Shop are experienced in the best quality t shirts based on brand name, materials used, how well they lend themselves as shirts for printing, and their durability throughout time.
The Best T Shirts for Printing



Different materials yield different quality so it's important to choose the best type of t shirt fabric that will give you the results you want when it comes to shirts for printing. Is it a soft t shirt you're looking for? Cotton, a natural material, is the industry standard. There are various types such as 100% ring spun cotton and %100 preshrunk combed cotton.
Synthetic fibers like polyester t shirts, rayon, and spandex are also used and even blended to produce different types of shirts like tri blend t shirts.
Now, we highly recommend choosing the best quality t shirts that your budget allows as comfort and fit are key to the success of your project. If your budget is limited, however, preshrunk cotton would be the least expensive option. Preshrunk cotton tees typically weigh in at around 5.0-6.0 ounces.
The Heavyweights
In this category you will find brands such as Gildan 2000 & 5000, and the Port and Co. 54. These are the most popular heavyweight blank t shirts for printing. They are also make for a very affordable t shirt.
Within the heavy weight category and definitely, a popular choice amongst the college crowd is Comfort Colors t-shirts. They are known for their unique style and high quality materials. Made from 100% ring spun cotton, these t shirts are not only comfortable but also durable and long-lasting.
One of the main features that sets Comfort Colors apart is their unique dyeing process, which results in a vintage, worn-in look that is both stylish and timeless and makes them one of the best t shirts for printing.
Additionally, Comfort Colors offers a wide range of colors to choose from, making it easy to find the perfect shade for your custom t shirt design. Whether you're interested in selling t shirts online or just want to add some comfortable and stylish basics to your wardrobe, Comfort Colors t shirts are a great choice.
When it comes to the best in the over sized t shirt industry, the choice is simple, it's LA Apparel.
LA Apparel is a trendy, fashion forward brand that offers some of the best blank t shirts for printing in the streetwear niche. Their selection of quality t shirts is made from materials that are amongst the best t shirts for printing and embroidery.
What sets LA Apparel apart from other brands is their unique and modern styles that cater to the streetwear culture. Their garments are often seen as the perfect canvas of combed cotton for artists and designers to express themselves.
Not only are their shirt styles comfortable, but they are also ethically made in the United States, which is a bonus for those looking to support local and sustainable fashion. Overall, LA Apparel is a brand that should be on the radar of anyone looking to create a custom t shirt for the streetwear market.
The Mid-weights
If the heavies are a little too heavy for you, there is also a "mid-weight" category. For most, this provides the perfect balance between a t shirt that might be too thin and one that is too heavy. Available in soft combed cotton, the best types of shirts in this category are the Anvil 780 and the similar Alstyle 1701.
A more economical option would be the Gildan Dryblend t shirt. These are made up of 50% cotton and 50% polyester, making them a nice blended t shirt . These are more forgiving to shrinkage and they retain a good fit and color.
Premium Lightweights
If you're searching for a t shirt fabric enhanced for more durability and lighter in weight with a softer feel, rin gspun cotton would be a more suitable choice. In this category, Gildan Softstyle, Next Level 3600, Bella+Canvas 3001, and Tultex would offer the best quality t shirts.
These blank t shirts are often chosen for more fashionable projects because of the premium cut and feel of ring spun cotton. They range in price with Tultex being the most economical and Bella+Canvas being higher up on the price list of blank t shirts.
The best shirts for printing in terms of price, fit, and durability would have to go to the Next Level t shirts. They are by far the most popular t shirts for printing.
If creating custom shirts for athletics or active wear, you will find that t shirts made of 100% poly or a mixture of different fabrics to be a good choice.
Polyester will not shrink or morph as cotton does, even if it is combed cotton. It also wicks away moisture providing a fresher feel.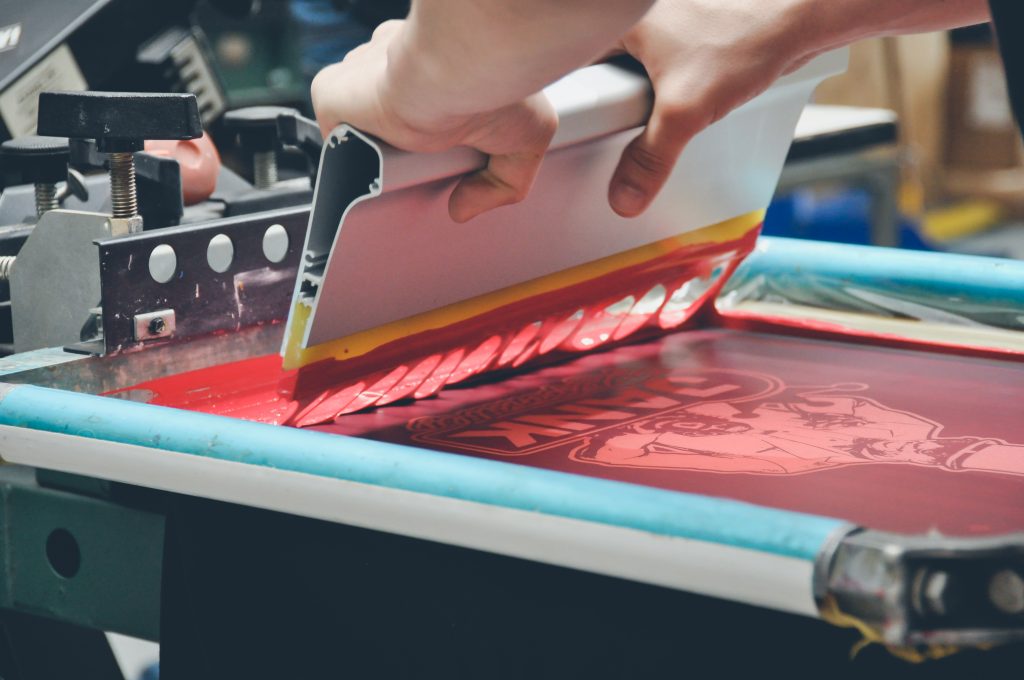 As stated, there are many options that you can choose for the best blank t shirts. If you're having trouble deciding on which material to choose, there are high-quality material combinations that will fit what you're looking for. A cotton and polyester blend add durability, decreases weight, and adds to the overall softness.
The most common blend ratios are 50/50, 60/40 and 65/35. In this category, you'll find options like the Next Level Cotton/Poly 6200 (65/35), Next Level CVC 6210, American Apparel BB401 and Bella Canvas 3650. Then, there are the Tri Blend t shirts. Their versatility comes from the fabric composition comprised of polyester, ring spun cotton and rayon.
It is comfortable and it retains its shape and elasticity making them a top choice when it comes down to the best t shirts for printing. Because of this, it is a go-to t shirt for any independent, fashion forward clothing brand focused on quality t shirts.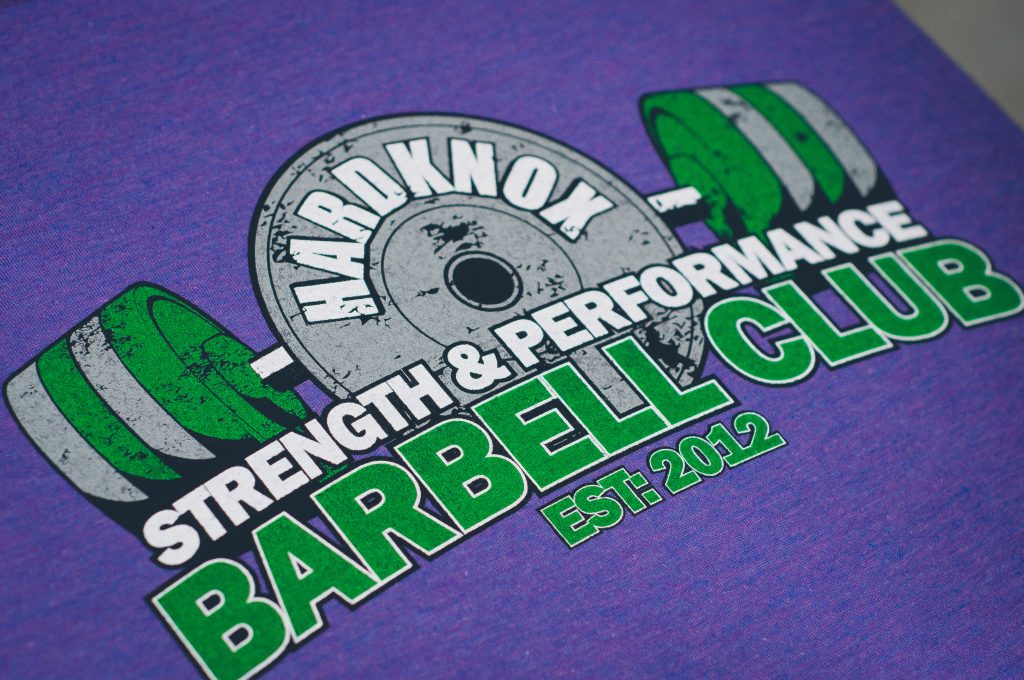 Aside from fabric composition, you will also have the option of choosing the type of neckline you want for your t shirts. The most commonly offered are crew neck and v-neck in both men & women's styles. And many brands also offer deep v-necks and scoop necks.
Other types of shirts offered are tank tops, racer backs, and slouchy or boat-neck tees. There are numerous options to choose from but based on your preference and some information, we can definitely help you find the best t shirts for printing. Get a quote or give us a call, we're always happy to help!
The Sustainable T Shirt
Investing in a high quality blank custom t shirts can also have environmental and social benefits.
A t shirt that is made from sustainable materials or is produced with ethical and fair labor practices, individuals can support a more responsible and socially conscious approach to fashion.
This is especially important in today's world where consumers are becoming increasingly aware of the impact that their purchasing decisions have on the environment.
The t shirt is no exception.
By selecting high-quality, ethically-made shirts individuals can create a unique t shirt for their brand that not only looks and feels great, but also make a positive impact on the world. Allmade is that brand.
In conclusion:
When it comes to choosing the best t shirts for printing, there are a variety of factors to consider. The material of the shirt, the quality of the fabric, and the color options are important when it comes to deciding on which blank t shirts to use.
Additionally, the type of custom t shirt printing used can also impact the final result, so it's important to choose the best blank t shirts that will work best for the screen printing technique.
Ultimately, the best t shirt for printing will depend on your specific needs and preferences. Whether you're looking for a ring spun cotton shirt for a clothing brand or a durable polyester blend for a sports team, there are plenty of premium t shirts to choose from.
By taking the time to select the right blank t shirts for your printing needs, you can ensure that your final product is high quality, long-lasting, and visually appealing.
FAQ:
What type of t shirt printing lasts the longest?
From ensuring the longevity and quality of the design, to setting the tone for the overall style and feel, to offering a blank canvas for creative expression, the choice of blank t shirt is an important factor to consider when creating custom apparel.
Combining this with the tried and true method of screen printing, your print will last the longest. When done correctly, the print will outlast the shirt.
What is the best type of t-shirt for printing?
T shirts made with ringpun cotton and combed cotton is one of the best t shirts for printing. This shirt will have a smooth surface resulting in superior screen printing results.
The weight and texture of the blank t shirt is an important factor to consider when printing custom designs.
For example, a lightweight, soft cotton t shirt may be ideal for a comfortable, casual look, while a heavier, sturdier t shirt may be better suited for a more structured design or athletic wear.
By selecting the right weight and texture of the blank shirt, designers can ensure that their t-shirts not only look great, but also feel comfortable and appropriate for their intended use.
A blank t shirt is essentially a blank canvas for creative expression. Whether it's for a business, organization, event, or personal project, t shirts allow individuals to showcase their unique style and message in a tangible way.