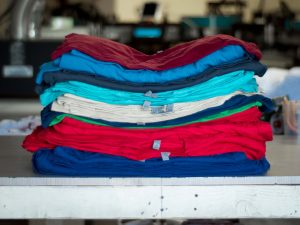 "It's ready", you whisper to yourself. You look to your window and notice the soft, glowing blueness of dawn seeping through your blinds. You've just spent hours finishing the t-shirt design that's been haunting your mind for the past couple of days and images of people wearing your custom t-shirts start flooding your mind.
What's next? You have the design, now you need the screen printed t-shirt. When starting your own custom t-shirt line, it's important to understand how large a part the quality of your garment plays in the success of your brand. You may have a stylish design idea, but if the t-shirt your graphic is printed on doesn't feel good or fit well, will people wear it?
For example, if you've ever walked into a grocery or convenience store, you may have noticed a rack of screen printed t-shirts for sale. The shirts usually adorn a magnificent bald eagle with piercing, patriotic eyes and an American flag as the backdrop or even majestic wolves howling at a full, pale blue moon. Awe-inspiring as they may be, these types of t-shirts are typically sold at a very low price. If you've ever tried any of them on, you'd understand why. "Boxy", "ill fitting", and "stiff" could be adjectives used to describe them. They're not necessarily the pinnacle of trendy fashion.
In contrast, the t-shirts typically found at premium clothing retailers can be described as the opposite: soft, comfortable, with a great fit. The quality of the material used to make the t-shirt makes the difference between what is considered "retail quality" and "economy quality." It also plays a part in how much a custom t-shirt will be worn.
If the shirt fits, feels and looks good, then, chances are it's going to be worn over and over again. It becomes a tool used to represent the wearer's identity and personality. Custom t-shirts made of a lower quality material are typically unflattering. In essence, the quality of the t-shirt will determine whether it will be constantly used as part of an outfit or something to be worn only around the house.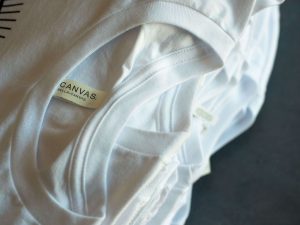 When creating a successful clothing line, budgeting will always dictate the decisions you make. How "much does this cost? If I spend X amount of dollars on this, will I get a return on my investment?" After all, you're not running a charity here. Well, unless you're literally running a clothing charity, but you get the point. Obviously, premium quality t-shirts are more expensive than your standard quality t-shirts. So, is it worth paying more for a retail quality shirt?
There's a term used in the marketing world called Cost Per Impression or (CPI). It's normally used in online advertising and refers to cost or expense for each potential customer who views the advertisement paid for. It's a way to determine whether the number of views for an ad substantiates the cost of paying for it. In this case, we're looking at screen printed t-shirts. Every custom t-shirt your company produces can be considered an ad for your brand.
Standard Quality T-Shirt
 If you go the "standard t-shirt" route, you're going with a second-string player. Still, a solid choice for its purposes but there's a better option for a retail clothing brand. The standard shirt may not have the best fit and feel. It won't be as soft and it won't have that coveted tailored fit.
Therefore, the chances of it being worn often decrease.
Retail Quality T-Shirt
 Let's flip the script and say you go with the retail quality shirt or "premium" option. The cost per shirt is more expensive. However, the material feels, fits and looks a lot better. The quality increases the likelihood of the shirt being worn more.
Another thing to consider when choosing a custom t-shirt for screen printing is durability. Lower quality t-shirts that are 100% cotton tend to shrink more often after several washes. Because of this, they usually end up in a donation box, at a Goodwill, or as a wash rag.
Now think of your favorite custom t-shirt and the number of times you've worn and washed it. Chances are it still fits the way you like. The longer a t-shirt lasts, the more it gets worn and the more it gets worn, let's say it together, "the more impressions it will get."
More impressions justify the extra cost of the retail quality t-shirt. If your custom t-shirts aren't being worn, then you're missing a vital part of the marketing for your brand. Fortunately, there are various shirt manufacturers that provide retail quality t-shirts at affordable prices. We're talking soft, light, nicely cut t-shirts that will help represent your brand to it's fullest potential. Here are a few:
For those starting out in the custom t-shirt industry, it's always tempting to prioritize savings over quality and that's understandable. However, it's important to consider the part quality plays in your customer's decision to purchase your product, wear your product, and possibly re-purchase from your brand again. If you're in for the long haul, getting educated on the various types of screen printed t-shirts will help your brand succeed.
Here at Oh Boy, we can help you with that. Contact us with questions about screen printing for your brand.