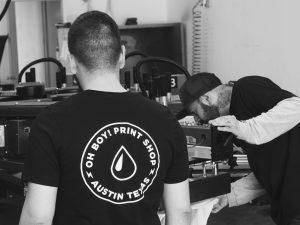 Introduction
This article will help you determine how to choose the best custom t shirt company for your brand, business, or organization.
Quality
When it comes to finding the best custom t shirt company, there are many variables that will dictate where and why someone will buy their shirts. Most of the time, people buy based on price. This happens when someone is on a budget, working with someone else's money, or looking to get the most bang for their buck.
In some cases, this tactic can work well, for example when shopping for a kids party and thinking about decorations, food or entertainment. But bargain shopping doesn't always lead to the best outcome. At least not always the one we would hope for. This is what many call getting what we pay for. This concept tells us that price and quality are directly linked. And when we shop for the absolute lowest price, we are often sacrificing something far more important, experience. The experience that a person has with the product they purchased, is the most important way to measure success.
So imagine, what would someone have to do, to cut costs so low, that they are practically giving their product away? Often, the answer lies in the quality of the materials or services a business provides. The end result is a product or service that is just acceptable, but never great.
Quality is the most important thing to consider when choosing a custom t shirt company. The better the quality of your shirts, the longer they'll last and the more likely you are to be satisfied with them.
Quality is also important because it can affect your bottom line–poorly-made shirts that fall apart after just one wash will cost you more money in the long run than if you had bought higher-quality garments in the first place!
There are many different ways to measure quality; some companies measure things like thread count or fabric weight (how much material goes into making each garment), while others might look at how well their products are made or even how customer service responds when customers contact them with issues regarding their orders. In any case, quality should always be at least somewhat important when considering which company makes your t-shirts!
Here's an example: Let's say we're trying out two different companies who both offer similar services but one charges twice as much as another–which do we choose? Well…it depends on whether or not there are other factors besides price influencing our decision-making process here such as convenience vs availability etcetera…but assuming nothing else matters except price alone then I'd probably go with Company B simply because even though both companies offer similar services at different prices there's no reason why someone shouldn't pay less money for something if possible since everyone likes saving money right?
Quality is the new quantity.
In today's marketplace, quality is the new quantity.
It's a simple equation: if you want to be taken seriously as a company and create long-lasting customer relationships, then you have to deliver an experience that exceeds expectations in every way possible. It means paying attention to detail, being consistent with your brand story and delivering an experience that makes customers feel like they matter–something we call "customer service."
Conclusion
While there are many t shirt companies out there, only a few can offer their customers the best quality and customer service.
We are after great. Insanely great. Our commitment is the pursuit of perfection. Our desire is to make every experience a great one. Our attention to detail drives us to produce the best products in our industry.
Our focus is to help our customers shine, so they get the credit and recognition they deserve.
Whether you a looking to fulfil an order for a large organization, or just looking to launch a new brand, we offer services that will help you succeed.
Our success comes from a customer first mentality. We will always do what is best for our customers.