We offer soft custom shirts, unique print options, and an easy order form that makes it a breeze to get great-looking shirts. Request a quote!
No setup fees.
Talk to a human: Support is only an email or phone call away.
Unmatched quality: Our shirts look and feel better than the rest.
Low minimum.
Delivered fast (7-14 business days): We

deliver your shirts in record time, without sacrificing quality or accuracy. We ship nationwide, deliver and offer local pickup in Austin, TX.

Competitive pricing.
We offer custom logo services: We have an in-house graphic designer for customers looking for help with their custom shirt design. We can help you turn your vision into reality. We match any color using the pantone® matching system.
Sustainable practices:

Our method of screen printing uses sustainable materials and low-waste production processes. You can feel good about the impact of your custom shirt.

We screen print using plastisol, discharge, and water-based inks.
At our shop, we use state-of-the-art screen printing equipment to create beautiful custom t shirts.
We're here to help you in any way we can. We'll give you information, recommend products, and advise you on the best course of action.
We take pride in our work, and nothing is left to chance as we turn your brand designs into unique apparel you'll love wearing.
How it works
T Shirt Selection
We offer a variety of custom t shirts to provide the right choice that meets your screen printing needs. Your new favorite shirt is around the corner. Filter by color, material and style to find a blank canvas for your design.
If there is a specific t shirt that you would like screen printed, let us know, chances are we carry it.
If you need a retail quality custom apparel for your business or brand, we have it. Select from our wide range of products, inks, and finishing options to create a product that is perfect for your customers.
If all you need is a cost effective t shirts for an event or school function we've got you covered there too.
From organic ring-spun cotton all the way up to oxfords and t shirts for everyday use, we provide excellent garment selection.
We supply major brands like Comfort Colors, Bella + Canvas, Next Level, Gildan, and more. Here is a helpful guide for selecting the right custom t shirts for printing.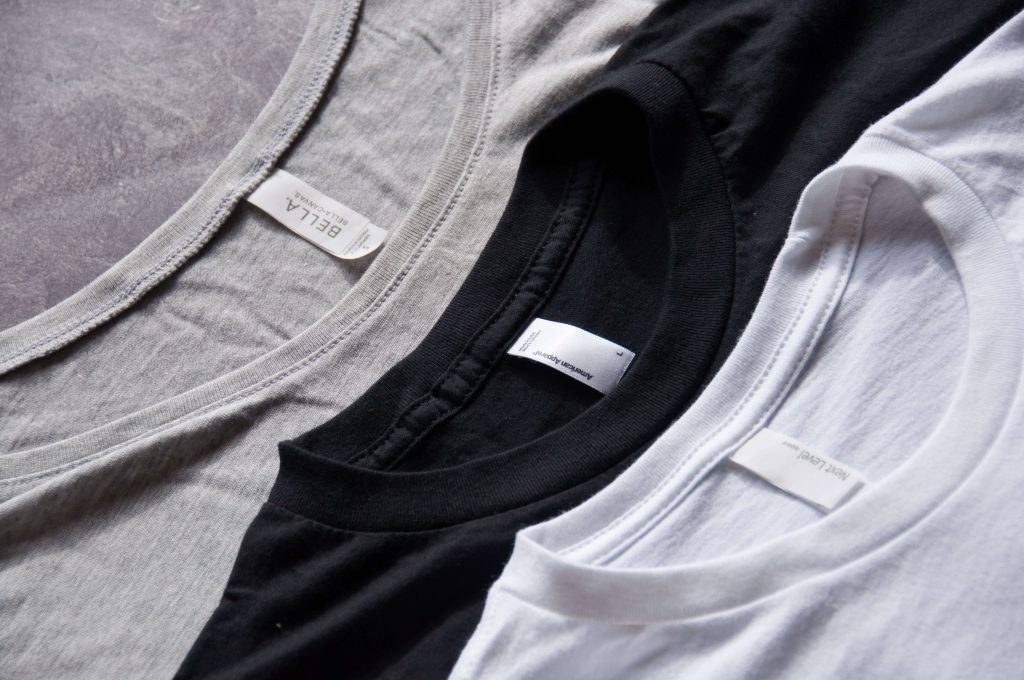 Request a Custom Quote for Your Order
Our Customer Service team will help you find the perfect product and provide a quote with all of the details. Fill out the information on our "Get a Quote" page for the product you are interested in.
Someone from our team will be reaching out to you soon to make sure all of your information is correct, check any design files you have sent us, and apply any finishings that may be required for your order.
Upload your Logo
Submit your logo or design for your custom t shirts.
Once we receive your deposit, our design team will send you a high-quality digital mock-up within 24-48 hours. Please let us know if you have any changes.
We'll work with you to make sure all of those changes are made before sending your custom product off to our production team.
If you don't have any print ready artwork, that's ok! Our in-house art department will help you to design custom t shirts based on your project needs.
If all you have is a sketch on a paper napkin, we can work with it too. We use the Pantone matching system to ensure that your final screen printing is accurate to your original logo.
Approve Your Order
We review your order, create a digital mockup and send it to you for approval before we start printing. We only print what you approve!
Your custom printed t shirts will be ready within 7-14 business days from the time your final order is approved. If you are working on a short deadline let us know.
Some t shirt orders can be ready in as little as 3-5 business days with rush processing.
Our aim is to provide you with quality t-shirt printing that meets your every need. Located in Austin, we provide custom apparel for brands, organizations, schools, businesses or events.At Oh Boy!, we have made customer satisfaction and quality our top priority. Let us help you design a t-shirt that perfectly matches your brand and message.Getting your shirts printed is easy. We are happy to supply you with custom apparel at very reasonable prices, no matter how big or small the order.
We take pride in delivering quality t shirt printing ready for you fast! We look forward to becoming your go-to screen printing shop.
Want more info on ordering custom shirts? Click here.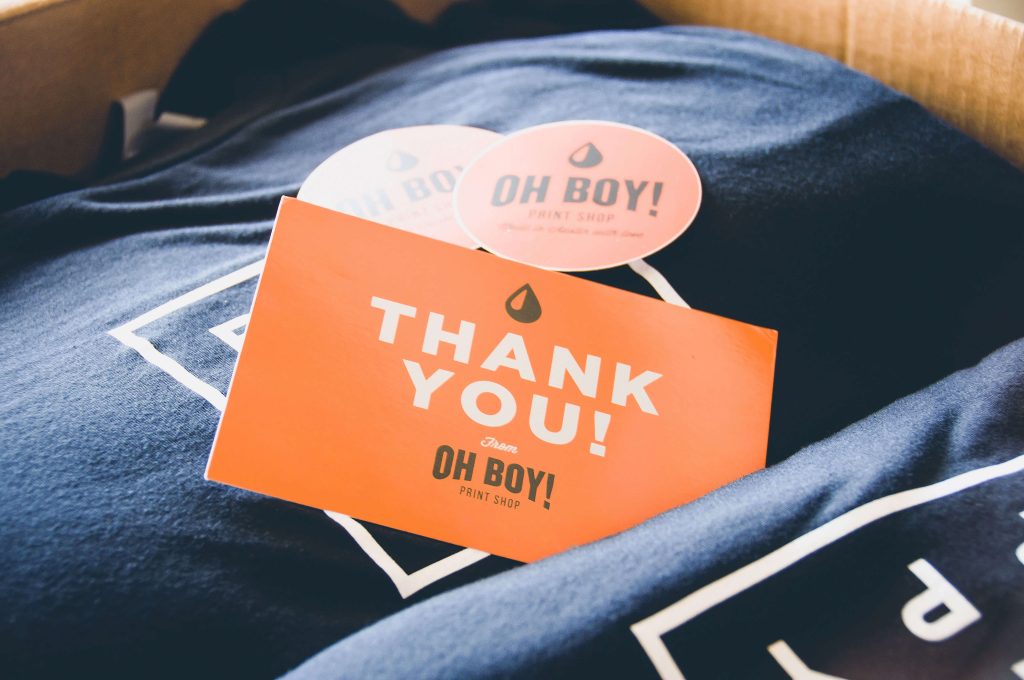 T Shirt Printing Austin: Best Practices
Reputable
Oh Boy! Print Shop is an experienced t shirt printing company. We encourage you to read our reviews and testimonials from previous customers to learn about our track record of delivering t shirts printed at the highest quality.
Price Breaks
Determine the number of shirts that you need. Our screen printing company offers price breaks for larger orders, so consider ordering in bulk if you need a large quantity of t-shirts.
Material
Select the right t shirt style and material. Consider the intended use of the garment and choose a material that will meet your needs.
Cotton is the most popular material for screen printing, and for good reason. It's breathable, comfortable, and takes ink well, resulting in vibrant and long-lasting designs. Cotton is also a relatively affordable material, making it a great option for large quantity orders.
Tri-blend t-shirts are made from a blend of three materials – typically cotton, polyester, and rayon. These shirts are known for their softness and durability and are often used for high-end retail brands or for printing designs that require a unique vintage style.
The cotton-Polyester blend combines the breathability of cotton with the wrinkle-resistant and moisture-wicking properties of polyester. This t shirt is ideal for athletic or performance-based designs that need to hold up to sweat and frequent washing.
Dri Fit material: Some of these types are made from synthetic materials like polyester, nylon, or spandex. These materials are designed to be moisture-wicking, quick-drying, and durable, making them the ideal garment for sports teams or a brand tailored for athletic events. They can be as comfortable or breathable as cotton or cotton blends and print very well.
Perfect Design
Finalize your design and ensure that it meets the requirements for screen printing on your choice of apparel. Make sure that your design is in a high-resolution file format, and confirm that the colors are correct and clearly defined.
Consider the placement of the design on the t shirt. Discuss with our screen printing team where the design will be placed on the t-shirt, and ensure that it is positioned correctly and centered.
Finalize the Details
Confirm the details of the order, including the quantity, shirt style, material and design. Make sure that you understand the timeline for the order and any additional fees for rush orders or design revisions.
Provide clear and detailed instructions for shipping and delivery. Confirm the shipping address and any special delivery instructions, such as a specific delivery date or time.
By following these best practices for creating custom apparel, you can ensure that you are extremely happy throughout the entire process. Remember to communicate clearly with our screen printing experts and ask any questions that you may have throughout the process to ensure a successful outcome.