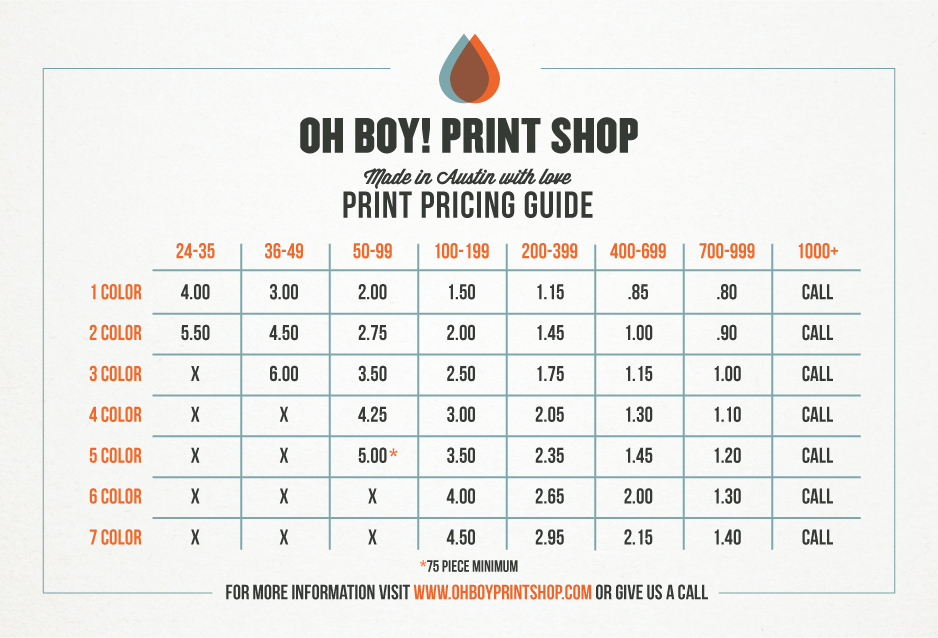 Turnaround is 7-10 business days. Please use our quote form for an exact quote.
Add the cost of the shirt + screen printing. This will provide an approximate price for screen printing t shirts.
Blank Shirts
Choose from three categories of t shirts: economy (good), standard (better), premium (best).
Economy:  Standard 100% Cotton or 50/50 blend T-shirt (Hanes, Gildan).
Standard: Fashion Fit, Ringspun 100% Cotton T-shirt (District, Gildan Softstyle).
Premium: Fashion Fit, Combed Ringspun, Cotton or Blends (American Apparel, Next Level and Bella+Canvas Cotton and Blends).
For example, let's say you need 50 standard t-shirts with a one color print. The blank shirt is $6.00 + $2.00 print price = $8.00 per shirt.
Generally, we do not have setup costs or extra fees. If you need special pricing on orders larger than 1k pieces, please ask.
Minimum Quantities
1-2 color print on 24 pieces of the same design.

1-3 color print on 36-49 pieces of the same design.

1-5 color print on 50-99 pieces of the same design.
Additional print locations e.g. back, sleeve, etc.
Prices listed are per print location. If you have two, let's say front and back, then it is an additional print location. Using the above example, $6.00 + $2.00 front + $2.00 Back = $10.00 per shirt.
Dark garments may require an underbase. Underbase is priced as an additional color.
Standard print size is 12.5" W x 14.5" H
Jumbo printing 12.5" W x 17" H is available with a one-time setup of $30 per color.
Color change press is $20 per color.