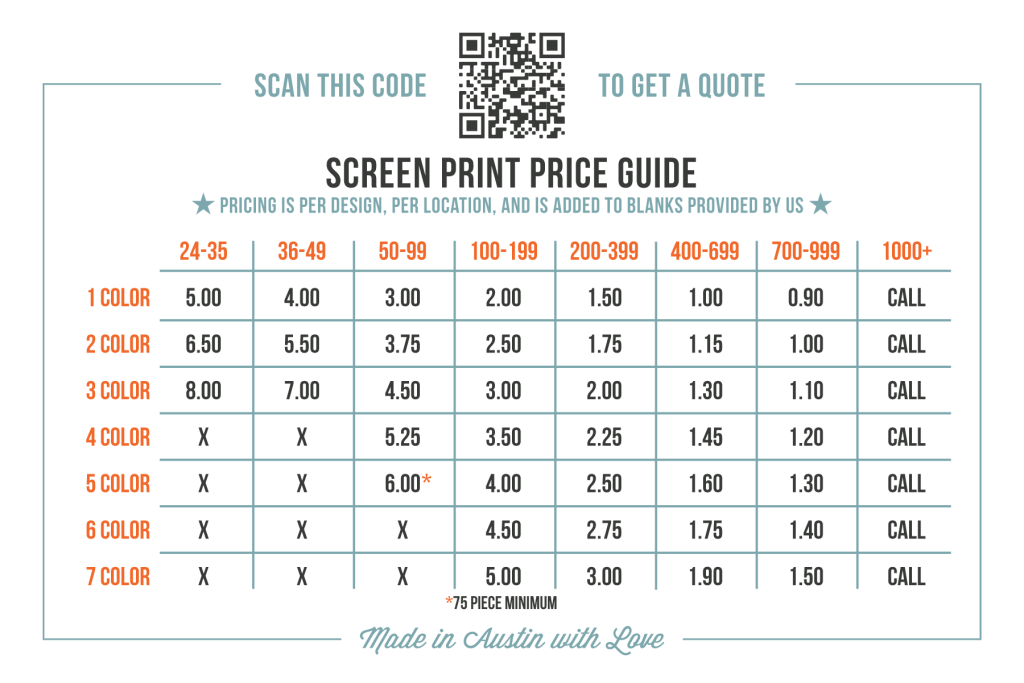 Screen Printing Shirts
High-quality screen printing should be easy and affordable for projects of all sizes. We offer a wide range of screen printed products. This includes t-shirts, hoodies, bags, and more.
Turnaround is 7-14 business days. 
Prices listed are for screen printing t shirts only. Price does not include blank garments.
Please use our quote form for an exact quote.
Blank T Shirts
Our pricing for screen printing t shirts is easy, just add the cost of the t shirt + screen printing to determine the price per shirt with your logo.
Choose from three categories of t shirts: economy (good), standard (better), premium (best).
Economy $:  Standard 100% Cotton or 50/50 blend T-shirt (Hanes, Gildan).
Standard $$: Fashion Fit, Ringspun 100% Cotton T-shirt (District, Gildan Softstyle).
Premium $$$: Fashion Fit, Combed Ringspun, Cotton and Blends (Comfort Colors, Next Level and Bella+Canvas).
For example, let's say you need 50 economy t-shirts with a one color screen print. The blank shirt is $6.00 + $2.00 print price = $8.00 per shirt.
Generally, we do not have setup costs or extra fees. However, there are additional costs for ink color changes, jumbo prints, and plus sizes. If you need special pricing on screen printing t shirts larger than 1k pieces, please ask.
Minimum Quantities
1-2 color print on 24 t shirts of the same design.
1-3 color print on 36-49 t shirts of the same design.
1-5 color print on 50-99 t shirts of the same design.
Additional screen print locations e.g. back, sleeve, etc.
Prices listed are per screen printing location. If you have two print locations, let's say front and back, then it is an additional screen printing location. Using the above example, $6.00 + $2.00 front + $2.00 Back = $10.00 per shirt.
Dark t shirts may require an underbase. Underbase is priced as an additional color.
Standard screen printing size is 12.5" W x 14.5" H
Jumbo screen printing 12.5" W x 17" H is available with a one-time setup of $30 per color.
Color change is $20 per color.
Our competitive pricing achieves quality screen printing with a cost effective approach.
Excellent customer service is our top priority. Our experienced team will ensure that your custom t shirt printing is accomplished with precision and clarity.
We understand your goals and our team will provide guidance throughout the screen printing process.
We can help you create custom shirts for your brand, business, organization, or upcoming event. We have the expertise and resources to make your vision a reality.
We are passionate about using screen printing as a way to help people in Austin showcase their unique identities. Contact us today to learn more about our services, or stop by our shop so we can show you what we do.
Benefits to Local Screen Printing
Supporting Local Businesses
When you buy locally screen printed t shirts, you are supporting your community and contributing to the local economy. By choosing to work with a local screen printing company, you are helping to keep jobs and revenue within your community, rather than sending your money to a company based elsewhere.
Higher Quality Control
With an online screen printing service, you may not be able to see the quality of the final product before it arrives. In contrast, when you order from a local screen printing company, you can typically visit their facility and see the quality of their work firsthand. This allows you to have greater control over the final custom shirt and ensures that you are getting great service and a high-quality item.
Greater Attention to Detail
Local screen printing companies often have a greater attention to detail, as they are more invested in maintaining their reputation within the community. They take pride in their work and are more likely to go above and beyond to ensure that the final screen printed t shirts meet your expectations.
More Personalized Service
Local screen printing companies often offer a more personalized customer service team. They are able to work directly with you to understand your needs and vision. They can provide guidance and recommendations on a specific print method based on expertise. This level of personalized service is not typically available from an online retailer.
Faster Turnaround Times
When you order locally screen printed t shirts, you can often get your products faster than if you order from an online retailer. With local printing, you can work with the printer directly to establish a timeline for your order and ensure that it is completed within your desired timeframe.
In conclusion
There are many reasons why buying local screen printed t shirts is a better option than choosing to print shirts online. By choosing to work with a local printing company, you can support your community, get a higher quality custom printed t shirts, enjoy greater attention to detail, receive more personalized service, and benefit from faster turnaround times.
So the next time you need custom t-shirts, consider working with a local screen printing company and experience the benefits for yourself.
 Contact us today!