Creating your own clothing or t-shirt line is a very ambitious project. Getting it off the ground is tedious and time-consuming. There are numerous details involved in the process and your project can easily go off the rails if they're overlooked. However, you're not easily discouraged. You have a vision and a creative statement to make and your clothing line will succeed thanks to the right t-shirt. We're going to help you make that happen.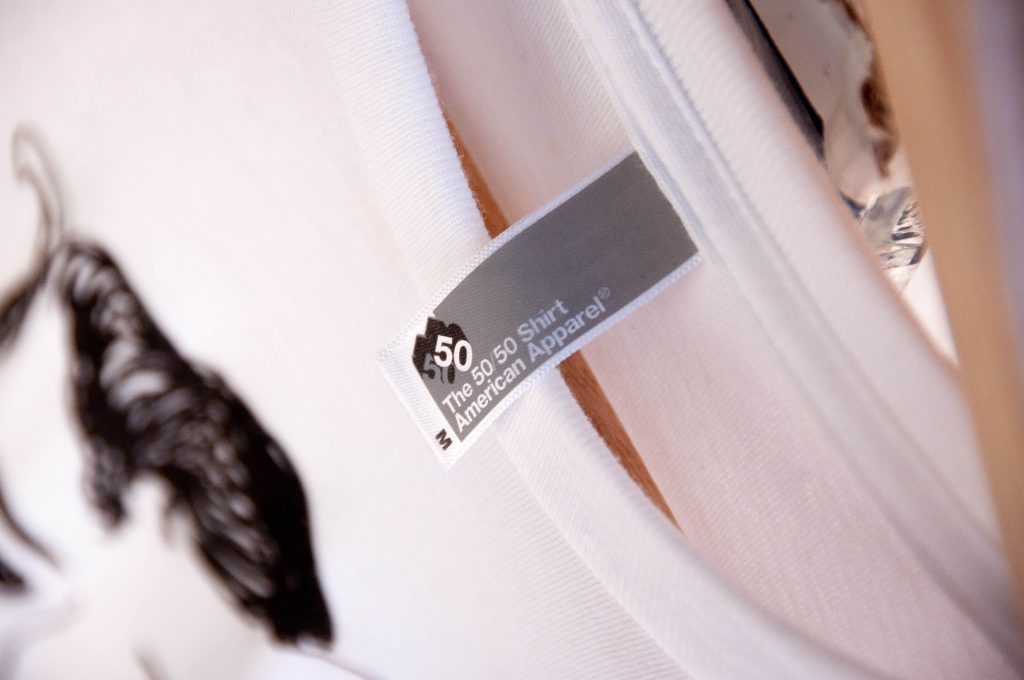 The most important aspect of a successful t-shirt line is the t-shirt itself. You could have the Mona Lisa of t-shirt designs that would have people pausing and admiring the screen printed artwork, but if the shirt's fabric doesn't feel good, if the fit isn't right, your work might not see the light of day. When your customers reach into their closets for their favorite t-shirt, you want it to be yours. Every shirt worn is an advertisement for your brand.
Think about your favorite t-shirt. Why is it your favorite? How does it feel? How does it fit? How was it screen printed?
These are the characteristics you must consider when choosing the right t-shirt.
Your customers will appreciate the extra effort and attention to detail you gave into providing a shirt that fits and feels great.
What makes us experts on this subject matter? Well, this is our thing. We've worn, screen printed, and washed just about every garment in the industry.
What makes us experts on this subject matter? Well, this is our thing. We've worn, screen printed, and washed just about every garment in the industry.
We're here to save you the time of navigating through the minefield of blank t-shirts.
This list, organized by weight class, will be the difference in whether your shirt becomes a favorite or a car wash rag. This might be quite a bit of information, but your brand deserves a well-educated decision. 
Standard Tees (Hanes, Fruit of the Loom, Anvil)
Heavyweight Division
The Gildan ultra cotton t-shirt is the most used, good for every-day activity kind of garment. This is the quality of shirt you'd find in the merch stand of a struggling up and coming band or at a convenience store with an image of a wolf or patriotic eagle printed on it. Yup, those. Gildan, Anvil and Fruit of the Loom with few differences, are essentially the same. They come from the same mills so these are essentially identical.
Gildan, Anvil and Fruit of the Loom, with few differences, are essentially the same. They come from the same mills so these are essentially identical.
Sure, it's friendlier to your wallet and they screen print well, but it's cut is boxy and the fit isn't specialized. These warrant special attention when washing. They can shrink down a whole size and the sleeves tend to "wing out". Nobody likes that.
If you're aiming for a garment that is more suited for a fashion forward project, then we recommend you skip these t-shirts. If you're looking for shirts for an upcoming family reunion or a co-ed softball tournament, then this is the shirt for you.
All right, we got the most basic option out of the way so let's get down to business. These are the garments we recommend for a fashion driven clothing line.
Up first to bat is the Alstyle 1301. If your brand is leaning more towards the urban t-shirt feel, then this might be the right t-shirt several reasons. It's heavyweight and has the boxy fit but don't let out that hesitant "hmm" just yet. Unlike the Gildan shirt we discussed prior, this garment won't shrink and is as durable as those vintage Nokia brick phones. We're talking quality and longevity.
Brands like Diamond Supply, The Hundreds, Mighty Healthy all use this shirt. Not to mention, Alstyle is easy to get a hold of if you're on the west coast which is why so many skate driven brands choose it.
Middleweight Division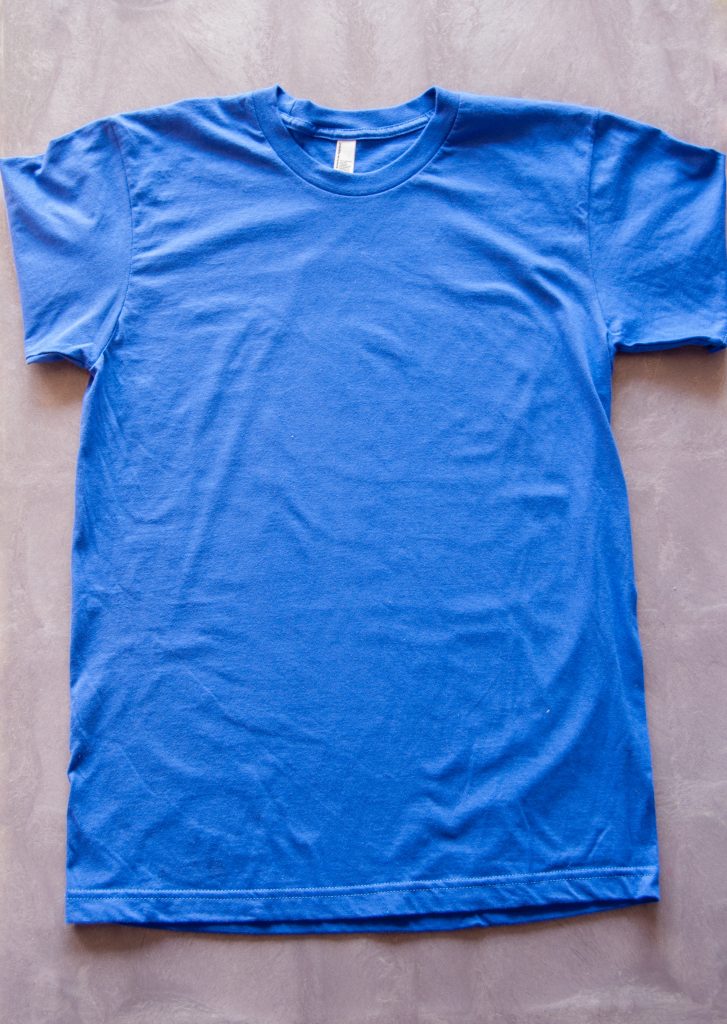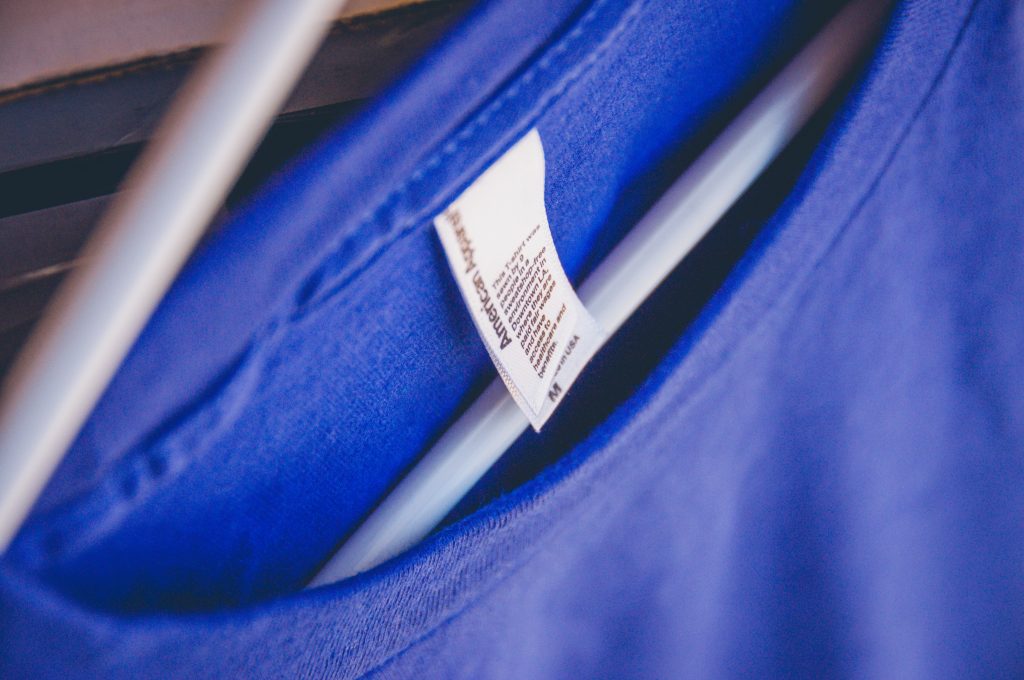 Weighing in at 4.5 oz of ring-spun softness and born and bred in the good ol' USA is the American Apparel 2001. Some would say that this is the ideal weight for a t-shirt.
Made in downtown Los Angeles, this is the company that started the revolution for a better fitting tee. Every hip and trendy clothing line was printing on these until other blank companies took notice and cashed in with cheaper versions of their own.
The American Apparel 2001 has the best and most unique color choices. Even American Apparel's primary color options look better than the other brands. The shades of color are just right on the money. Worth noting, Canvas' color swatch comes close to AA's. (We'll touch on this in a bit).
These shirts screen print well using plastisol inks and they look even better with premium water-based and discharge inks. However, due to its tubular construction, these can shift a little after a wash causing them to lose their original shape. Other brands like Canvas and Next Level have side seems which makes a huge difference in maintaining their fit.
Even with some of the cons, you can't go wrong with this brand. It is the quintessential brand of the American hipster and even though they may get a bad rep here and there, they know their clothing. The name recognition and perceived value also makes these a good choice if you're planning to sell your shirts at a premium.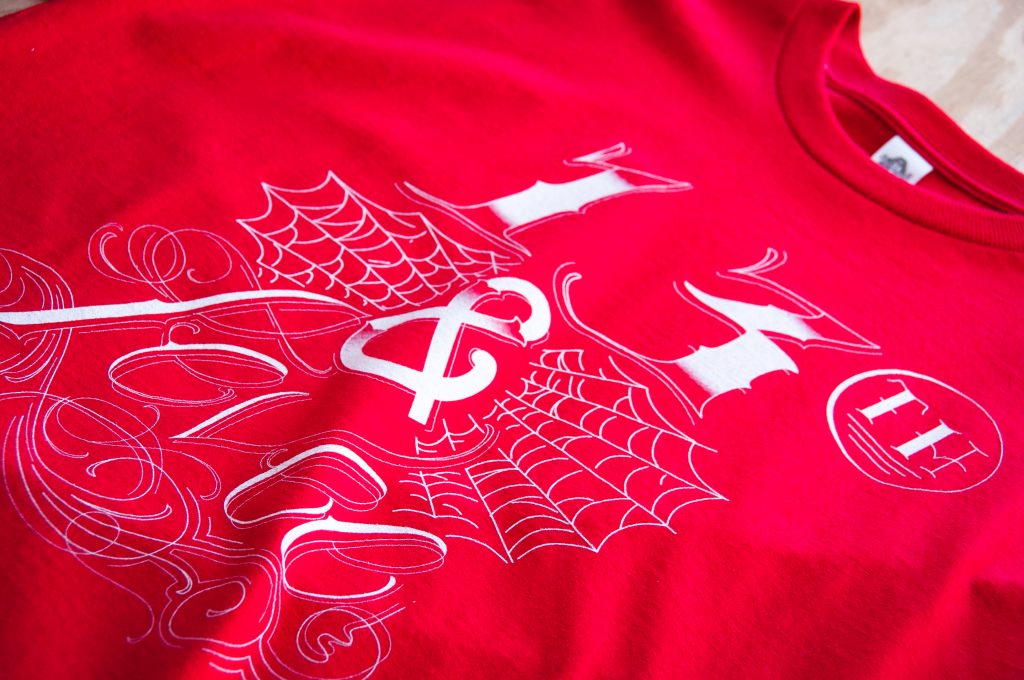 Also called "the surf tee", the Alstyles 5.5 oz ring-spun cotton shirt is soft and maintains a great fit. This is another option used quite a bit in the urban and skate wear industry.
If you're aiming to launch a brand for an alternative sport such as BMX or skating and looking for something more breathable and not too heavy, then this garment is a great choice. Some very established brands like Obey, Crooks & Castles, and Active Skate Shop utilize these blanks.
Like Alstyle 1701, this t-shirt weighs in at 5.5 oz and is also made of ring-spun cotton. If your budget is an issue, you need not worry. It's more economical at half the cost.
Anvil's brand distribution is wide and it may be a little easier for you to find depending on your screen printer and location. A downside is that their color choices are limited. However, this shirt does have a nice weight to it and your customers will enjoy something a little sturdier and durable than what they accustomed to.
Lightweight Division


Tultex is almost an exact copy of the American Apparel 2001. Cost wise, it definitely won't break your bank.
Tultex discussed a re-do of their line with improvements to the fit and fabric of their initial launch. Though, all we really noticed was a different tag for the inside label.
We wouldn't say reliability is a strong suit of these garments. They're unpredictable after a wash and sizing isn't consistent. If you're printing a large run, you will start to notice that some mediums are more like smalls and others like larges.
We wouldn't recommend these unless you're in dire need to have an American Apparel type shirt on the cheap. However, we can say that Tultex does make a respectable hoodie and their blends are nice. They are cheaper than Gildan's, they have a nice fit, and are soft ring-spun cotton. Definitely worth considering.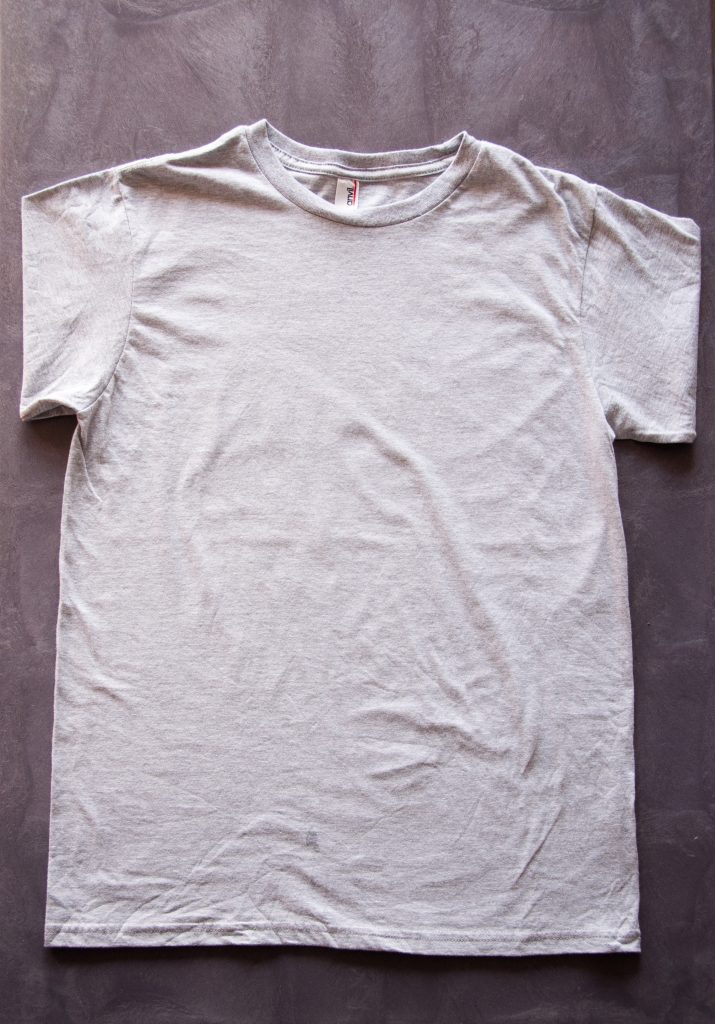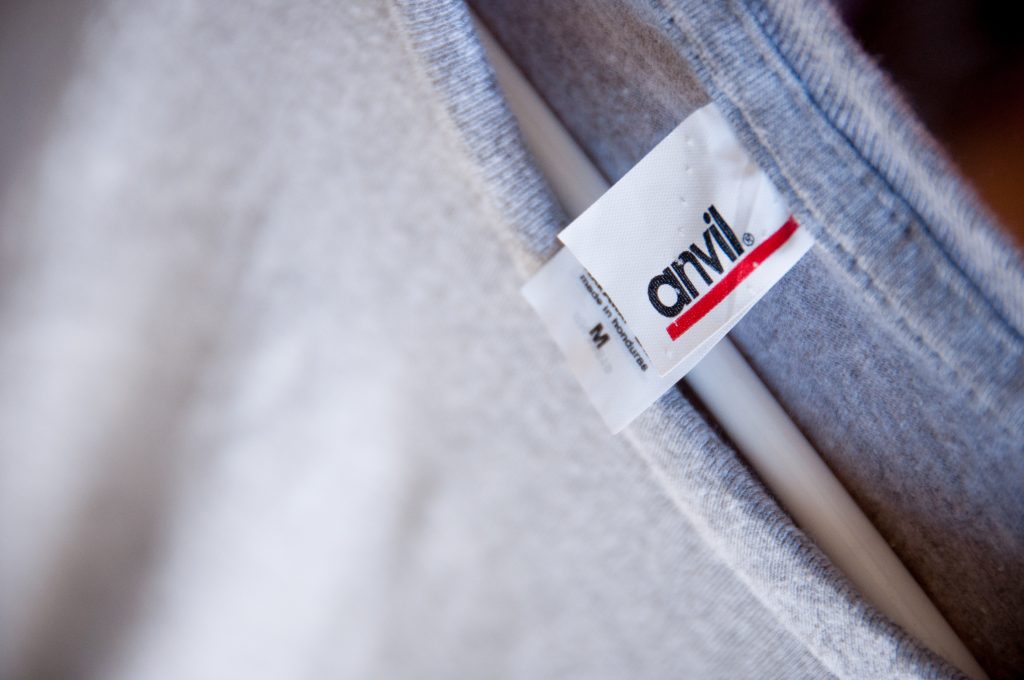 The Anvil 980 was also made to rival the American Apparel 2001. The previous review pretty much applies to this one, too. It costs less and has a much smaller color selection. NEXT!
Next Level Apparel, rather than just copying the American Apparel 2001, these guys improved upon it. Their garments are bit lighter at 4.3 oz, yet the quality is retained. They also have an important, but, often, overlooked side seem. A small detail which makes all the difference in the world when maintaining the shape of a t-shirt. These shirts are the epitome of soft and their fit is great.
Even better than the 100% cotton shirt is their 60/40 blend. It feels the same if not softer but has a lesser tendency to shrink.
If you're in love with American Apparel's tri-blend, but want to maintain your budget, Next Level is your answer. Their blends feel close to AA's and they come in some great colors, too.
If you're launching a brand for people that are fashion conscious or into fitness, this is definitely one to consider. We screen print on a lot of Next Levels because our clients love the quality, fit, and price point. This brand also has many different choices when it comes to garments for women so a lot of boutiques and premium brands print on these. Next Level has established themselves as one of the best values for screen printing.
This manufacturer has some excellent garment and color choices. They aren't as fitted as the Next Level shirts but they do feel lighter at 4.2 oz. and this is because their knit isn't woven as tight.
If you're like some of us here at Oh Boy, you might be in between sizes. It can be somewhat frustrating finding a shirt you like, but just doesn't fit right. Well, a great thing about Bella+Canvas is that their shirts are a bit longer. So if you're a medium, but medium shirts usually fit shorter on you, Bella+Canvas has you covered. Yes, pun intended.
They're pretty interchangeable with Next Level, but they have a much better color selection. They have some unique garments that could definitely add some nice variety to your brand. Bella+Canvas is also budget friendly.
Conclusion
So we're reaching the end of our journey of discovering the right t-shirt for your brand. Let's recap.
If you're starting a street wear brand and want that heavy boxy fit, go with the Alstyle 1301. Another great option for street wear and skate is the 1701.
Don't buy Gildan or Hanes Beefy unless you've got a "one-time" use sort of thing planned. Use the Gildan dry/blend instead. It's is a nice shirt for the "standard" category. The fact that it's 50/50 cotton poly makes it less prone to shrinkage. A good choice when you just need a classic fit, good for everyday use t-shirt.
The Anvil 780 is a solid choice for a middle-weight t-shirt and might be the only option if your screen printer doesn't carry Alstyle.
Stay away from Tultex 100% cotton unless you really need a fashion fit shirt that's cheap. Check out their blends instead.
American Apparel isn't the only heavy hitter for fitted, light-weight shirts anymore. Other brands have stepped up their game.
You owe it to yourself to check out brands like Next Level and Bella+Canvas. Their catalog is vast and you're sure to find something you like. They have a great selection for blends, outerwear, and ladies clothing. This is really a strong choice for starting a brand.
We know this is a lot of information. A clothing line is a serious business and it requires serious research. We compiled this list as a screen printing company that sees these shirts every day. We have plenty of experience when it comes to how these t-shirts screen print, fit, and hold up after a wash. If you have any questions, hit us up. We love talking shop.